Reflective Green Address Signs
During an emergency, every second counts! Valuable time can be lost searching for address numbers if they are not posted clearly or are too far away from the roadway to see. One of the ways you can help us make sure we are able to find your address quickly is by having a Reflective Green Address Sign clearly displayed. Even though you may have your address numbers displayed already, the Lindsey Volunteer Fire Department recommends placing a highly visible green reflective address sign where your driveway meets the roadway so that it is visible from both directions, day or night.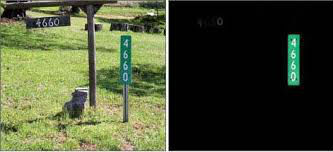 Your reflective address sign will be provided to you at no cost if you are a Lindsey Fire District resident. If you are unable to install the sign or have questions on the best placement of the sign, please let us know and we will assist. A limited number of address signs will be available each year, as resources are limited. While voluntary donations are gladly accepted, no donation is required to receive an address sign.
If you are interested in getting a reflective green address sign, please complete the ADDRESS SIGN REQUEST FORM below. Once we receive your request, you will be contacted by a Lindsey Volunteer Fire Department representative, within 1-2 weeks, to let you know that your sign is completed, and to schedule where/when it can be picked up.
If you have questions regarding this Community Safety Program, or any other programs and/or services of the fire department, please contact Deputy Chief Jason Conklin at 419-680-4026 or jconklin@lindseyfire.org
Reflective Green Address Sign Request Form